2 years ago
Mini Episode Fifteen point Four
The Remembering Part Three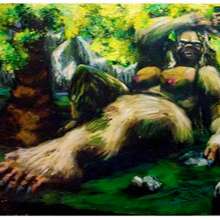 Episode Notes
Squatch Smasher Comedy Podcast Website It's Already Been Done Presents
Vlad finishes his epic tale of his Super-Soldier threesome with a female Bigfoot. The night Zeke was created.
This mini-episode of Squatch Smashers was written by Matt McDonald and Darren Esler and George Pete Caleodis.
Zeke Delfour was played by Darren Esler
Vlad was played by George Pete Caleodis
Jenny model 8675309 was played by Mary Ellen Clark
Betty was played by Dawn Davis, you can visit Dawn's Voice Over website at www.dawndavisvoiceover.com
Contact info is available on our website squatchsmashers.com
We are members of the IABD network. Please go to www.iabdpresents.com to see the lineup of written works, youtube shows and podcasts available from the talented people there.
Now everyone go have a beverage and remember to tell everyone you know about this podcast if you dare. I just double dog dared you so now you have to do it. Thems the rules. Thank you for listening!
Support Squatch Smashers Comedy Podcast by donating to the tip jar: https://tips.pinecast.com/jar/SquatchSmashers
Find out more at https://SquatchSmashers.pinecast.co
This podcast is powered by Pinecast.